12-05-2018 11:14:14
AGS tool for Dan Wesson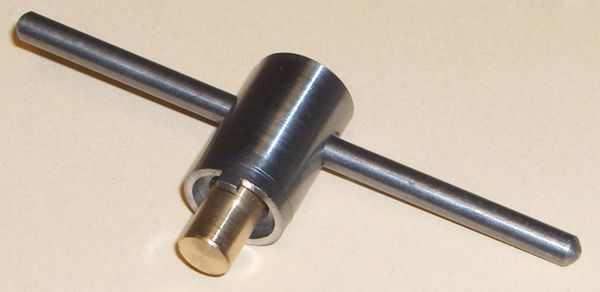 AGS Pibe værktøj til Dan Wesson large frame revolvers som f.eks M.15-2V,
haves på lager til .357 Magnum (yderdiameter over tappende på knapt 18mm) og .357 Maximum (yderdiameter over tappende på godt 20mm) Pris 399,-
I prisen følger også et søgeblad i 0,15 mm.
 
Changing barrel assembly
CAUTION: Be sure revolver is not loaded before attempting to change barrel.
1. Assemble the barrel wrench to the barrel nut in the muzzle of the barrel.
2. Unscrew and remove the barrel nut.
3. Remove shroud by sliding forward off the barrel.
4. Unscrew the barrel from the frame.
5. Screw new barrel with end containing most thread into the frame
6. Insert .006 ('002" for SuperMag)' feeler gauge against the front of the cylinder and screw barrel into frame until there is a slight pressure against the feeler gauge.
7. Keeping the gauge in place. install new shroud over barrel and locating pin
8. Assemble barrel nut (slots up) using wrench, Tighten so that firm pressure is required to unscrew the nut. DO NOT OVERTIGHTEN.
9. Recheck gap between cylinder and barrel by moving gauge There should be slight pressure
against the gauge, but it should be possible to move it.
WARNING: THE BARREL AND CYLINDER GAP IS CRITICAL. FAILURE TO USE THE GAUGE CAN CASUE EXCESSIVE GAS LEAKAGE AND LEAD SPITTING, POSSIBLY CAUSING INJURY
10. Remove feeler gauge.
11. After firing the first six or twelve rounds, recheck for proper gap and barrel nut tightness.
Make certain the gun is unloaded for this recheck.
12. If the barrel nut is too tight, making removal difficult, use the fallowing procedure: Be sure
revolver is not loaded before attempting to tree barrel nut.
a. With wrench assembled to the barrel nut, press muzzle of the gun and wrench firmly
against the edge of a bench and turn revolver counter clockwise.
b. With wrench assembled to the barrel nut, using a mallet, tap back of wrench sharply to
loosen nut.
Pris: 399,-
Tilføj til indkøbsliste mail@huntershouse.dk