30-09-2021 15:57:52
Savage Gear 3D Horny Herring
Savage Gear 3D Horny Herring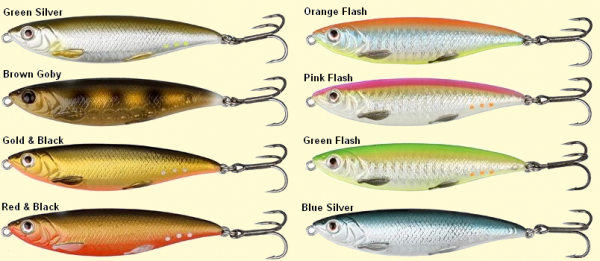 Meget naturtro & gennemført 3D kopi af en silding til kystens ørreder eller de brakke gedder og aborre!

En langsomt synkende agn / kystwobler i (SS - slow sinking) med ufattelig mange flotte detaljer og rigtig lækker finish, holografisk scale mm.
 
Perfectly made replica from a small herring, imitating a wide variety of prey fish both salt and freshwater.
The Horny Herring swims and dances enticingly with a great flash on the twitch and have a great shimmer on the spin stop.VMS (Vivid Movement System). The Lure runs high in the water and be fished over shallow water. Great casting distance with a combination of steel and tungsten balls.
Great lure for Sea Trout, Seabass, bass, perch, asp, pike – you name it!
• Superior 3D details and realism
• Enticing Swimming action
• Long Casting tungsten design
• VMS- vivid movement system
• Ultra Sharp Savage Gear Y-Trebles
• SG wide Gape Lure single extra hook
| | | | | |
| --- | --- | --- | --- | --- |
| Model | Vægt | Farve | Pris | |
| Savage Gear 3D Horny Herring | 8cm 13g | Pink Flash | 69,- | |
| Savage Gear 3D Horny Herring | 8cm 13g | Orange Flash | 69,- | |
| Savage Gear 3D Horny Herring | 8cm 13g | Red And Black | 69,- | |
| Savage Gear 3D Horny Herring | 8cm 13g | Brown Goby | 69,- | |
| Savage Gear 3D Horny Herring | 8cm 13g | Green Flash | 69,- | |
| Savage Gear 3D Horny Herring | 8cm 13g | Gold And Black | 69,- | |
| Savage Gear 3D Horny Herring | 8cm 13g | Green Silver | 69,- | |
| Savage Gear 3D Horny Herring | 10cm 23g | Pink Flash | 79,- | |
| Savage Gear 3D Horny Herring | 10cm 23g | Orange Flash | 79,- | |
| Savage Gear 3D Horny Herring | 10cm 23g | Red And Black | 79,- | |
| Savage Gear 3D Horny Herring | 10cm 23g | Brown Goby | 79,- | |
| Savage Gear 3D Horny Herring | 10cm 23g | Green Flash | 79,- | |
| Savage Gear 3D Horny Herring | 10cm 23g | Gold And Black | 79,- | |
| Savage Gear 3D Horny Herring | 10cm 23g | Green Silver | 79,- | |
| Savage Gear 3D Horny Herring | 3 styk | Skriv ønsket vægt og favre i Kommentaren | 120,- | |
| Savage Gear 3D Horny Herring | 10cm 23g | Blue Silver | 79,- | |
mail@huntershouse.dk