30-12-2019 11:36:36
Ron Thompson Jig Master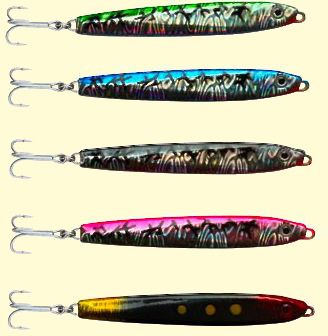 Ron Thompson Jigg Master er en kastepirk, som er beregnet til kastefiskeriet efter makrel, torsk, sej mm, 28gr og 40gr fisker godt i Københavns Havn, da Jigg Master har en lokkende gang ved selv helt lav indspinnings-hastighed.
Findes i 5 velfangende farver til skandinavisk fiskeri og 3 vægte (28g. + 40g. + 60g. + 70g.)
Jigg Master leveres med saltvandsbestandige springringe og trekroge.
Speciel UV maling på undersiden gør, at fiskene kan se pirken på dybt vand.
The Non Lead Jigg master saltwater lure range, supply you with a selection of well tested
colours and shapes, which will optimize your catch rate.
| | | | | | |
| --- | --- | --- | --- | --- | --- |
| Model | Vægt | Farve | Vejl. pris | Tilbud | |
| Ron Thompson Jigg Master | 28 gr | Silver-black | 39,- | 29,- | |
| Ron Thompson Jigg Master | 60 gr | Silver-green | 49,- | 39,- | |
| Ron Thompson Jigg Master | 70 gr | Black-red | 49,- | 39,- | |
| Ron Thompson Jigg Master | 70 gr | Silver-pink | 49,- | 39,- | |
| Ron Thompson Jigg Master | 70 gr | Silver-green | 49,- | 39,- | |
| Ron Thompson Jigg Master | 70 gr | Silver-black | 49,- | 39,- | |
| Ron Thompson Jigg Master | 60 gr | Silver-blue | 49,- | 39,- | |
| Ron Thompson Jigg Master | 60 gr | Black-red | 49,- | 39,- | |
| Ron Thompson Jigg Master | 60 gr | Silver-pink | 49,- | 39,- | |
| Ron Thompson Jigg Master | 60 gr | Silver-black | 49,- | 39,- | |
| Ron Thompson Jigg Master | 28 gr | Silver-green | 39,- | 29,- | |
| Ron Thompson Jigg Master | 40 gr | Silver-blue | 39,- | 29,- | |
| Ron Thompson Jigg Master | 40 gr | Black-red | 39,- | 29,- | |
| Ron Thompson Jigg Master | 40 gr | Silver-pink | 39,- | 29,- | |
| Ron Thompson Jigg Master | 40 gr | Silver-green | 39,- | 29,- | |
| Ron Thompson Jigg Master | 40 gr | Silver-black | 39,- | 29,- | |
| Ron Thompson Jigg Master | 28 gr | Silver-blue | 39,- | 29,- | |
| Ron Thompson Jigg Master | 28 gr | Black-red | 39,- | 29,- | |
| Ron Thompson Jigg Master | 28 gr | Silver-pink | 39,- | 29,- | |
| Ron Thompson Jigg Master | 70 gr | Silver-blue | 49,- | 39,- | |
mail@huntershouse.dk